Medical institution with Dr. Seiko Soyama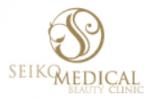 Seiko Medical Beauty Clinic Kagoshima
Seiko Medical Beauty Clinic Fukuoka
Contact information for Kagoshima Temple: 0120-172-117
Contact information for Fukuoka-in: 0120-126-265
Velvet Skin is a treatment menu that combines "Dermapen 4" and "Massage Peel (Collagen Peel)" .
It features a soft and elegant touch and a deep luster, and is called velvet skin because it leads to smooth and glossy skin like velvet, which is a fabric used for formal dresses.
By knowing the effects and mechanisms that can be expected from receiving velvet skin, as well as the downtime and post-treatment precautions, you can receive the treatment with peace of mind.