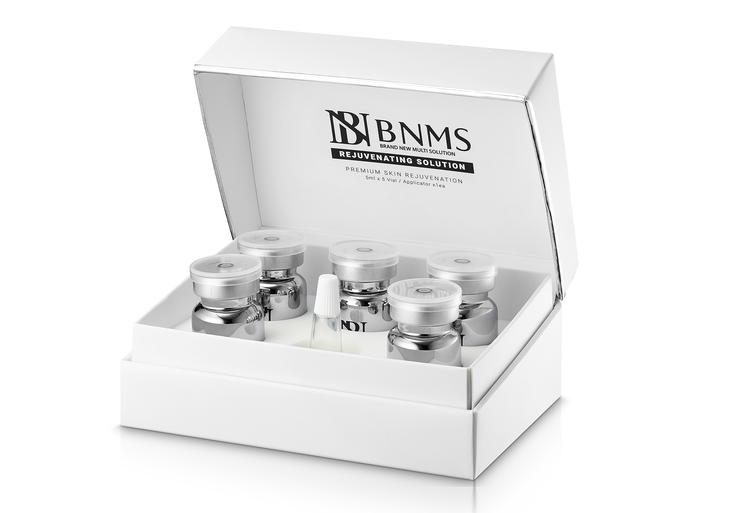 DN64 + BNMS RJV Solution is a skin care tool supervised by Dr. Yoon Song Eun, the director of Brand New Clinic, where K-pop stars, actors and famous entertainers from Korea, a beauty powerhouse, attend. ..
It is said that there was a wall that it would be expensive to request the same skin care treatment as celebrities such as famous Korean entertainers at the Brand New Clinic. Therefore, the DN64 + BNMS RJV solution was devised to develop a product that is an ingredient of cosmetics but has a medical-level effect.
A roller-shaped applicator with fine protrusions called DN64 is set in a vial of BNMS, which is a beauty essence, and the roller is rolled on the skin to allow the beauty essence to penetrate widely throughout the stratum corneum in a short time. It is said that it can be done.
We will tell you how it differs from a treatment that just applies beauty essence to the skin, the ingredients of the BNMS RJV solution, who is suitable for it, and how to use DN64 effectively.
Clinic level serum BNMS RJV solution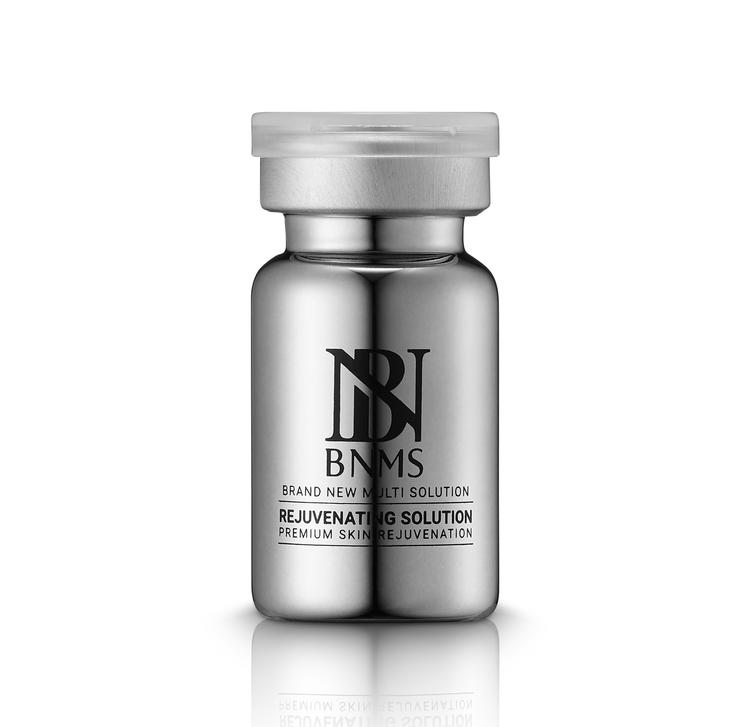 BNMS RJV Solution is a beauty essence supervised by Dr. Yoon Sung Eun, a well-known Korean beauty dermatologist. It is said to smooth the texture of the skin and lead to moisturized skin.
Key components of the BNMS RJV solution
DNA-Na (deoxyribonucleic acid Na)
hyaluronic acid
Hydrolyzed collagen
14 kinds of peptides, etc.
Contains DNA-Na, which works to condition the skin
DNA-Na (deoxyribonucleic acid Na) is a moisturizing ingredient extracted from salmon testes and is said to have the function of moisturizing the stratum corneum and conditioning the skin.
In addition, it is said to enhance the barrier function that protects the surface of the skin from external stimuli such as ultraviolet rays, and it improves the texture of the skin and leads to healthy bare skin.
DNA that decreases with age
DNA (deoxyribonucleic acid) is one of the important nutrients that can be said to be the source of life, and is a component that originally exists in human skin cells and carries the genetic information transmitted from cell to cell .
When you are young, the skin is reborn with normal turnover (28-day cycle) due to the sufficient amount of DNA nucleic acid in the cell, but when the amount of DNA nucleic acid produced in the body decreases with aging, metabolism Will decrease.
As a result, skin turnover also begins to lag behind the normal 28-day cycle, and skin aging progresses.
There are three types of DNA nucleic acids used as raw materials for cosmetics: DNA-Na, DNA-K, and DNA-HP.
Hyaluronic acid with high moisturizing effect
Hyaluronic acid, which originally exists in the human body, keeps the skin firm, elastic, and moisturized.
Hyaluronic acid is said to have a water retention capacity of 2 to 6 liters per 1 g, and has excellent moisturizing power and maintains lubricity. In the body, it exists in all connective tissues and organs such as joint fluid, blood vessels, brain, and eyeball, and acts like a cushion that connects cells between cells.
The skin is the most abundant hyaluronic acid. The ratio is said to be 50% of the total amount, and the skin is moisturized by hyaluronic acid, and nutrients are distributed and waste products are discharged.
Hyaluronic acid peaks in the 20s and decreases with age, and tends to be deficient in the 40s. This reduces the water content of the skin and makes it dry, and the accumulation of waste products makes it inflexible and causes wrinkles.
Hyaluronic acid is formulated in the form of sodium hyaluronate in the BNMS RJV solution. It fits well on the skin, has a keratin softening effect, and creates a protective film with a moist feel on the skin surface. It keeps the skin soft and moisturized, and can be expected to have the effect of preventing dryness.
Hydrolyzed collagen that gives skin firmness
Collagen is a fibrous protein that makes up the human body and is found everywhere in the skin, bones, cartilage of joints, tendons that connect bones and muscles, teeth, gums, and blood vessels. In the skin, it is an important ingredient to maintain elasticity and elasticity together with hyaluronic acid.
Since collagen is usually insoluble in water and difficult to mix in cosmetics, hydrolyzed collagen is devised to be water-soluble.
Hydrolyzed collagen is also called low molecular weight collagen or collagen peptide, and is characterized by its high penetrating power into the skin and hair.
Conventional collagen has a large molecule and has the characteristic that it does not easily penetrate even when applied to the skin.
By making the molecule smaller, hydrolyzed collagen penetrates into the stratum corneum, leading to firm, elastic and soft skin with excellent moisturizing power. It is compatible with hyaluronic acid and can be expected to have higher moisturizing power and skin protection effect due to the synergistic effect.
14 types of peptides that smooth and firm the skin
A protein with 50 or more amino acids bound to it is called a protein, and a protein with less than 50 amino acids and 2 or more amino acids is called a peptide. An oligopeptide in which a small number (2 to 9) of amino acids are bound is called an oligopeptide, and a polypeptide in which 10 or more amino acids are bound is called a polypeptide.
Peptides are components that originally exist in the human body and give commands to activate cells, but they decrease with age and aging progresses.
Peptides support the reincarnation of cells, so they are said to approach skin repair and give them firmness, elasticity and luster.
All components of the BNMS RJV solution
Water, glycerin, sodium hyaluronate, hydrolyzed collagen, 1,2-hexanediol. Cabrilyl glycol, DNA-Na, balmityltripebutydo 5, trehalosis, octabebutydo 7, tribebutydo 1 steel, synthetic human noble gene recombinant decabebutido 7, synthetic human gene recombinant octapebutide-4. Synthetic human Genetically modified oligopebutydo 9, synthetic human genetically modified pentapebutydo 19, galloyl pentapebutydo 33, oligoveptide 1 and bolipebuchido 1, oligopebutydo 2, synthetic human genetically modified polypeptide-22, synthetic human genetically modified polypebutydo 3, synthetic human Genetically modified polypebutido 9
Benefits of BNMS RJV Solution
Moisturizes the skin
Supplements and retains skin moisture and oil
Condition the texture of the skin
Protects and keeps skin healthy
Gives skin firmness and luster
DN64 permeates the beauty ingredients of BNMS with a microroller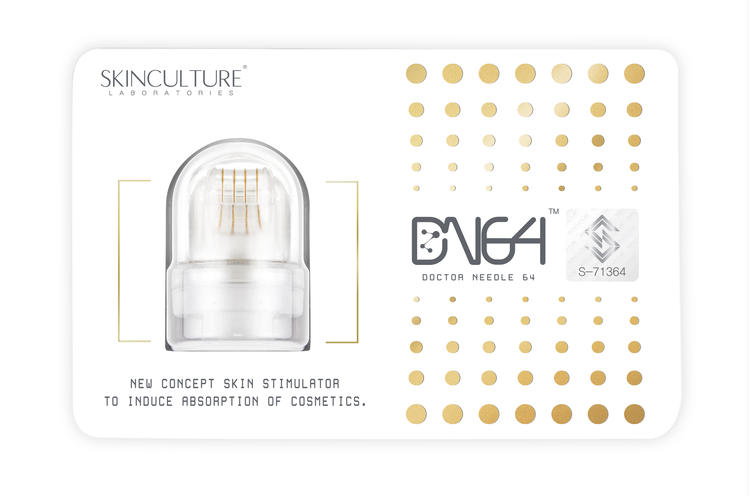 DN64 is a micro-need ring designed for easy use at home. Microneedling uses the natural healing power to promote skin regeneration, and is a method of making fine holes in the skin with an extra-fine needle. "Dermapen 4", which is popular in aesthetic medicine, is a micro-needling treatment.
In addition, by making fine holes in the skin, it is possible to penetrate the stratum corneum with beauty ingredients that cannot be penetrated by just applying it normally.
By rolling DN64 with 0.25 mm long extra-fine protrusions on the skin and applying BNMS RJV solution at the same time while making invisible minute holes in the skin, the beauty ingredients can be applied to every corner of the stratum corneum. It is said to penetrate. You can increase the amount of water in the keratin and aim for firm, glossy and soft skin.
Since the DN64 has a small roller, it has the advantage of being able to care for every detail of the face, such as between the eyebrows, nose, under the nose, around the eyes, areas where bears are concerned, and upper eyelids.
DN64 specifications
| | |
| --- | --- |
| Material of protrusion | Stainless steel (24K gold plated) |
DN64 + BNMS RJV Solution Development Concept
"There are many patients who want the same skin care treatment as Korean K-pop stars, actors, and famous entertainers, but in reality it is a fairly expensive treatment, so it is difficult for general patients. There was a reality. Therefore, I wanted to develop a product that is an ingredient of cosmetics but has an effect comparable to the medical level, and BNMS was completed. "

"DNA-Na, a leading component of BNMS, is a component known as" salmon injection "in Korean cosmetic surgery. DNA-Na is a component that carries the genetic information transmitted from cell to cell, and it can be expected to increase the water content (keratin water content) of the skin by infiltrating DNA. BNMS, which is a mixture of DNA-Na and 14 types of peptides, is a beauty essence that improves the texture of the skin and makes the skin moisturized. "

by Dr.YOON SONG EUN
Salmon injection
Salmon injection is also called rejuran injection, and by injecting DNA (deoxyribonucleic acid) extracted from salmon, it promotes the increase of collagen and elastin, which play a role in skin firmness and elasticity, and regenerates damaged skin. It has a function to help.
PDRN (polydeoxyribonucleotide) used in salmon injection is a component obtained by processing DNA extracted from salmon by a special technique. Salmon is rich in DNA (deoxyribonucleotide), and humans and basic tissues are abundant. The feature is that they almost match.
Developer Dr. Yoon Sung Woon (Brand New Clinic)
Dr. Yoon Sung-woon is the director of the Brand New Clinic, a well-known cosmetic dermatology clinic in South Korea, and the doctor who developed BNLS for lipolytic injection.
In addition to giving lectures at numerous symposiums led by the Korean Cosmetology Society, he holds study sessions and seminars on BNLS neo treatment techniques at medical institutions around the world. In 2020, he is also involved in the development of the latest model of the BNLS series, BNLS Ultimate.
Brand New Clinic is located in Gangnam-gu, Seoul, one of Korea's leading beauty districts, and is known as a premium clinic where many celebrities such as K-pop stars and famous actors gather.
Qualification and career of Dr. Yoon Sung Woon
Dermatologist Current Chairman of the International Division of the Laser Society of Japan for Cosmetic Surgery Current Chairman of the Korean Academy of Obesity and Cosmetology Treatment Former Chairman of the Korean Academy of Injectable Education and Research
Awards: 2005 Minister's Award, Korean Ministry of Health and Welfare
2011 Beauty and Medical Award, Maeil Business
2013 100 Leading Koreans, Newsmaker
2013 Best Innovative Brand, Sports Seoul
2014 Medical Aesthetic Specialist Award, Asia Model Awards
2014 Best Award, New Intellectual Association Republic of Korea
Those who are suitable for DN64 + BNMS RJV solution
Those who are concerned about dryness and lack of moisture
Those who feel lack of firmness and luster on the skin
Those who are worried about the opening of pores
Those who have dull skin due to dryness and accumulation of old keratin
Those who are worried about rough skin and want to smooth the texture of the skin
How to use DN64 + BNMS RJV solution and precautions
Estimated treatment time using DN64 + BNMS RJV solution is about 5 to 10 minutes for the entire face.
How to open the package
First, open the BNMS package containing the serum
Take out one product from the five
Remove the aluminum cap along the arrow on the top surface of the product
Remove the rubber stopper
Then remove DN64 from the package
Combine BNMS with DN64
Shake the combined DN64 and BNMS lightly from side to side a couple of times.
Remove the DN64 cap and gently press the needle to bring up the BNMS RJV solution, which you can lightly press against the back of your hand to test.
How to use for face, neck and décolletage
Face wash and toning before using DN64 + BNMS RJV solution
Remove the DN64 cap and lightly press the roller against the skin to roll it. Make sure that the beauty essence is applied to the skin, and then roll it by changing the direction of the roller vertically, horizontally, and diagonally.
Roll 4 to 5 times in each direction
Start with the forehead and roll the rollers in the order of temples, eyes, cheeks, chin, neck, and décolletage.
When you're done in one place, tap it with your fingertips to blend it into your skin.
Dry the beauty essence remaining on the skin as it is
If you want to lift up, pull the skin in the direction you want to lift and then roll the rollers.
Precautions for use
Use several times a week at night . Immediately after use, please refrain from outdoor activities. Rest for a few hours after use. The use of moisturizing and sedative cosmetics is recommended as needed.
Use it as if you were stroking your skin with enough strength to feel the unevenness of the rollers. If you press it too hard, the friction with the rollers may cause your skin to turn red. Even if you press it strongly, the depth of unevenness does not change, and there is no difference in the effect.
DN64 + BNMS RJV Solution Usability / Pain
It is said that when the roller is placed on the skin, there is a tingling sensation, but there is almost no pain.
Some redness may remain due to the stimulation of the microneedles on the rollers, but it is said that it will soon subside. The serum has a thick texture and no odor.
Estimated frequency of use of DN64 + BNMS RJV solution
Continuous care is required to restore the health of sensitive and weakened skin due to aging, external environment, stress, etc., and to make the skin firm and shiny.
The DN64 + BNMS RJV solution is recommended to continue about twice a week for about 5 weeks . It is recommended to switch to a new product about 18 months after starting to use DN64.
In addition, one vial for BNMS RJV solution is for one week for two to three times, and one set (five) is for five weeks .
DN64 + BNMS RJV Solution Amount
DN64 + BNMS RJV Solution Set
(Beauty serum 5ml x 5 / applicator 1)
23,100 yen (tax included)
DN64
10,780 yen (tax included)
BNMS RJV solution
13,200 yen (tax included)